Originally published on Huffington Post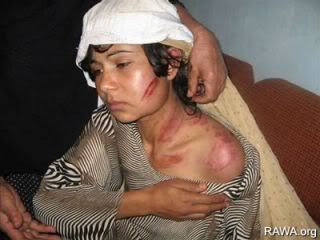 Since my post was published at Huffington Post on Monday, there's been even more outrage about President Karzai's caving to the fundamentalists. Out of Canada:
Defence Minister Peter MacKay said he will use this week's NATO summit to put "direct" pressure on his Afghan counterparts to abandon the legislation.

"That's unacceptable – period," he said Wednesday. "We're fighting for values that include equality and women's rights. This sort of legislation won't fly."
After what happened in the Swat region, this was easily foreseen, especially with President Karzai's popularity plummeting and an election on the horizon. The Independent's recent article also throws a shadow, maybe even complications, across Obama's Afghanistan strategy. From the article:
… Critics claim the president helped rush the bill through parliament in a bid to appease Islamic fundamentalists ahead of elections in August.

In a massive blow for women's rights, the new Shia Family Law negates the need for sexual consent between married couples, tacitly approves child marriage and restricts a woman's right to leave the home, according to UN papers seen by The Independent.

"It is one of the worst bills passed by the parliament this century," fumed Shinkai Karokhail, a woman MP who campaigned against the legislation. "It is totally against women's rights. This law makes women more vulnerable." [...]
That extremism is hitting the Af-Pak region just as President Obama unveils his new strategy, with Secretary Clinton in the Hague making our case, should be a chilling signal to us all.
When Sharia law was agreed to in Swat, Ahmed Rashid, a leading voice in all things Taliban, wrote what it meant to the unraveling in Pakistan, which we saw take yet another lurch recently.
While the government insists the legal change will allow only a limited application of Islamic justice through the local courts, the Taliban interprets it as allowing the full application of Sharia, affecting all aspects of education, administration and law and order in the region.

However the deal may be interpreted, it is an unmistakable defeat in the country's losing battle against Islamic extremism. Even though the military regime of former President Pervez Musharraf entered into several controversial, short-lived cease-fires with the Pakistani Taliban in the Pashtun tribal belt, Musharraf's army never conceded major changes in the legal or political system.
We'll have to see if any reporter on the trip with Clinton asks her about this latest development aimed at women, compliments of Pres. Karzai. Mrs. Clinton has shown her commitment to women's rights as human rights as first lady, so it's a perfect question to ask. As an independent journalist, unfortunately, right now I don't have a seat at that table, because I don't have a new media (or traditional) sponsor. But if I did it would be the first question I'd ask.
In all the arguments against Obama's Afghan strategy, many coming from the left, what the President's commitment means to Afghan women is rarely in the mix. That symbol, if supported, is something that would ricochet around the world.
How can any country be stable without women as part of the political mix? The answer is simple and sobering. It can't.