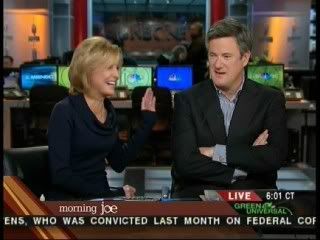 "Morning Joe" comes early. Very, very early. But you'd think Joe Scarborough would at least notice when his co-host reads the wrong general up for confirmation in the Senate. Or when they blew it they'd be open and honest enough to alert their audience. Now everyone gets things wrong. But none of us have a huge staff, big salaries and MSNBC backing us up either. The least you'd expect is that they'd openly correct the record. Nope.
Poor Mika. The teleprompter was set and she was ready. Too bad the information was wrong. Really wrong.
So, I didn't get to see "Morning Joe" today as it rolled, viewing the tape later in the day. At one point I thought I'd lost my mind. It wasn't me, it was them.
Cue Mika, who is heard while the "Morning Grind" graphic displays "War Strategy," with a huge picture of Gen. McKiernan on the screen.
"The man set to take over command of U.S. forces in Afghanistan will be on the Hill today for a Senate confirmation. General David McKiernan will likely not face tough opposition, as the Obama adminstration needs to ramp up the fight against the Taliban."
Huh? Who? It's about this time that I hit rewind wondering if I'd been doing too much research and scrambled my brain.
Yeah, he "will likely not face tough opposition," because the Pres. Obama already had the man fired.
But unsuspecting viewers didn't know that, but neither did the people on "Morning Joe."
The very next "Morning Grind" segment, Mika offered something different, complete with a huge picture of a different general:
"And today the Senate will hold a confirmation hearing for Lt. Gen. Stanley McChrystal who is set to take over as America's top general in Afghanistan. McChrystal will replace Gen. David McKiernan."
However, there was no mention whatsoever from the "Morning Joe" crew, Mika or anyone, that they'd gotten the story wrong the first time, embarrassingly wrong. They just did a second segment of "Morning Grind" pretending that the first one hadn't happened.
We know it's early, but come on. The firing of Gen. David McKiernan was a big story, with his replacement of Lt. Gen. McChrstal equally significant, considering what it might mean on the ground in Afghanistan, but maybe even Pakistan.
The priceless thing about this is that Joe Scarborough didn't have a clue. A general is a general to him, I guess. His new book should be a whopper.
This in the same week "Morning Joe" relegated Dr. Tiller's murder to quiet murmurs of "horrifying" and one mention in the "Morning Grind," plus the crawl as a reminder of the carnage. But did they discuss it? Nah. After all, you wouldn't want to put people off their Starbucks.