OPRAH WINFREY interviews the Obamas and the Romneys for the November publication of "O," The Oprah Magazine.
The excerpts reveal the personal side of the political marketing campaign of both candidates, with softer interviews a mainstay of this year's presidential election cycle.
The argument raged when President Obama chose the "The View," with Michelle Obama by his side, instead of meeting with world leaders during the U.N. General Assembly. Softer settings give the candidates a chance to reach voters well beyond the political world. The respite it offers, as well as the viral aspect, makes it an easy choice instead of interviews that press candidates on issues that can alienate the audience and provide no win situations.
The photo below of the Romneys and Oprah Winfrey is worthy of a caption contest. Looking at Ms. Winfrey's face, something just happened, but what?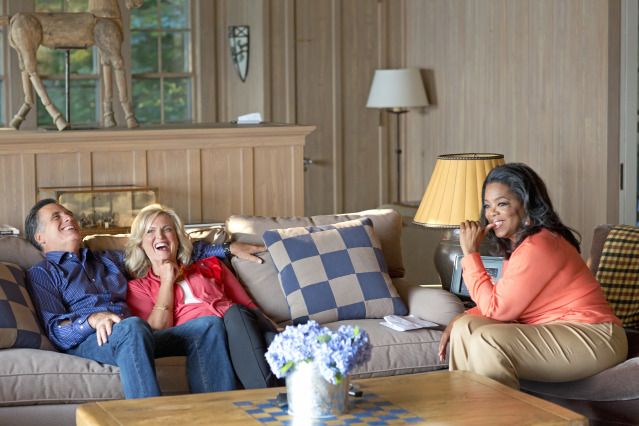 On what they like about their opponent:
Barack Obama: I really like the healthcare bill that he passed in Massachusetts. It was great.
Mitt Romney: Well, I'm glad he got Osama bin Laden, that's one. A man's been in office three and a half years, he does hundreds of things. I'm sure there are a few that are fine.
On their visions for the world:
BO: Michelle accuses me of being a congenital optimist, but it's true. I think people are capable of great evil but are fundamentally good. I want America to continue to be on the side of expanding justice and freedom and opportunity.
MR: More liberty. More freedom. Opportunity. And hope.
On how the President draws joy from his family:
BO: I already loved [my family] so much, but when you're under all of these pressures, to come home every single night – at least when I'm in town – and have Michelle and the girls there… They are my balance and keep me grounded, and that's truer now than it's ever been.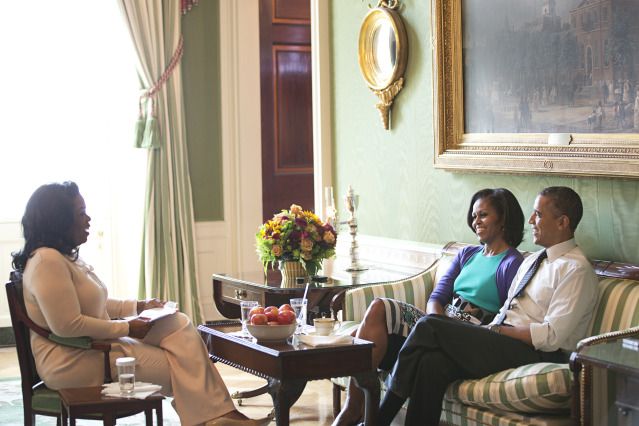 On what Mitt Romney wanted to be when he was growing up:
MR: I never imagined being the president in my youth. As a little boy, I wanted to be a policeman.
On what they have to say to their critics:
BO: To my critics I say, I'm not done yet.
MR: Just you wait and see.
Michelle Obama on not sweating the small stuff:
I might want to talk to him about an issue I have with what he said the other day, but you know what, it's not really that important. I'm stockpiling a list of issues that I'd like to discuss with him in 2016 though.
Ann Romney on how she felt when Democratic strategist Hilary Rosen criticized her for not having a job outside the home:
Frankly, it was rather humorous to me. Because it was like, maybe she should visit my house once and see what it's like. Raising children is the hardest job that there is on the face of the Earth. There's no question about it and I think that Mitt would agree.
Favorite Food:
Mitt Romney: "Ann makes these little meatloaf cakes with sweat sauce on top. Meatloaf cakes and mashed potatoes. Best thing in the world."
Barack Obama: "Pizza nights around the White House are pretty great."
Favorite Song:
MR: "Roy Orbison. 'In Dreams,' 'Pretty Woman,' 'Crying.'
BO: "Anything by Stevie Wonder. 'Don't You Worry 'Bout a Thing,' because I can sing the whole thing verbatim."
Household Chore:
MR: "Painting. I've painted rooms, stained floors. Oftentimes I don't even need to put down a drop cloth. I'm good enough at it."
BO: "Shoveling snow. You try chipping some ice off some windshields when it's five below at six in the morning."
Published with the permission of Hearst Magazines.