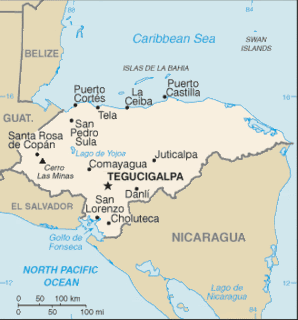 Honduras is on everyone's radar right now. It's the first coup in South America since the cold war ended, bringing memories of the region's harrowing past. But a big shift begins in Iraq tomorrow that will bring Bush's war back into our conversation as the Iraqis begin the process of policing their cities themselves.
There is a lot of attention on Honduras today, where a military coup has ousted Chavez's friend. It's likely that when many Americans hear the news they'll be unfazed. I doubt most people know where it is on a map (next to El Salvador). Amidst Zelaya's squeals of "I am the president of Honduras," the Honduran Congress quickly voted him out. The Wall Street Journal has a story putting Pres. Obama in the middle of this dispute, even as countries joined together condemning the coup. A statement from Obama is one thing, but going any further than that should be resisted.
"The decision was adopted by unanimity in the Congress. That means all of the political parties. It has been endorsed by sectors that represent a wide array of Hondurans — the Episcopal Church, the Catholic Church. And well, of course, the armed forces," he said. "The difficult part will be for the international community to see things as the Honduran people see them," the official said. – Honduran Military Ousts President
The Obama administration: A senior administration official would not confirm that account, but said, "We were very clear . . . that any resolution of the political conflict in Honduras had to be democratic and constitutional."
None of our business.
As for Iraq, Peter Feaver has written a post that will be copied over the days and weeks ahead. The big blast in Sadr City last week gave him a good setting from which to begin. Feaver's premise is simple:
Early reports that General Odierno felt the deadline should slip a bit gave way to more recent reports that he was comfortable meeting the deadline. This reassured me somewhat, until I re-read this assessment by Stephen Biddle. He offers a sober assessment of a number of ways the Iraq project could unravel, and a grim reminder that, as bad as Iraq has been, there are many ways that it could become much worse if we misplay our hand.

And in fact, Biddle intimates that the United States may very well be in the process of misplaying its hand by hewing too rigidly to the SoFA withdrawal schedule. The money quote: "The most effective option for prevention [of renewed violence in Iraq] is to go slow in drawing down the U.S. military presence in Iraq." Biddle recognizes that slowing the withdrawal would impose costs — strain on the armed forces and, perhaps a greater hurdle, political embarrassment for Obama and for the Maliki government. But he reminds us that letting the positive trajectory in Iraq reverse imposes great costs, too, and thus concludes: "On balance, paying the cost of a slower withdrawal, while expensive, may ultimately be the cheaper approach."
I just want out.
"I think from a military and security standpoint, it's time for us to move out of the cities.. "I believe security and stability is headed in the right direction." – Odierno on "State of the Nation"
But no one should be deluded into thinking that violence in Iraq won't rise when we do. That's simply not our problem anymore.
Let's just hope the Obama administration understands that once we start withdrawing there's no going back.
Besides, 130,000 troops still remain on patrol outside the Iraq cities. This is just one phase. The end of our military involvement in Iraq cannot come soon enough.
For the Iraqis it's just the beginning of a very long road.
Tariq al-Hashimi, Iraq's Sunni vice-president, echoed the concerns of many Iraqis when he urged "our people to be more cautious and avoid, whenever possible, crowded areas unless there is something important". In a statement posted on his website on Saturday, al-Hashimi urged Iraqi security forces to increase their presence in public areas, markets and mosques. – Al Jazeera
Mine fields ahead.