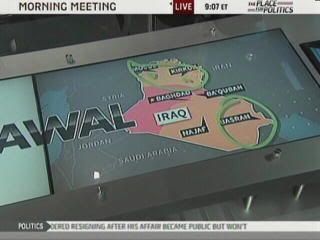 An oil consortium led by British Petroleum has won a contract to develop a large oil field in Iraq, as dozens of international firms compete for the rights to the nation's oil and gas reserves.

BP, along with China's CNPC, secured the contract for the Rumaila oil field on Tuesday, the largest of Iraq's six oil fields on offer to foreign and state-owned companies. … A total of 32 firms, including US and European giants ExxonMobil and Shell and companies from China, India and other Asian states, are chasing the opportunity to get 20-year service contracts to develop six giant oil fields and two gas fields.
As a side note, the above screen capture is evidence of MSNBC's new HD format. I'm loving it.
TO ADD… Tom Ricks brings the pessimism, though some would say it's simply reality.