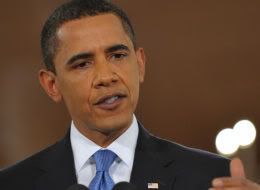 8:05:08 PM: BO: H1N1 virus alert: 1.5b to fight it. Takes budget pass lap.
8:10:38 PM: AP on closing border. BO: "Akin to closing the barn door…" Horses out, farm answer to dumb ?
8:13:27 PM: BO now playing dad. Wash your hands, cover your mouth. Gives Bush a nod on drugs. Not what u think.
8:21:30 PM: Tapper, did W torture? BO: Wbrding is torture. Rambling answer, WChurhill. "Legal rationales" mistake
8:23:15 PM: 2nd ? On torture. BO: does it make us safer? No info so far to make me think it does.
8:26:09 PM: Duck! Here goes Chuck (Todd): "Pak appears to be @ war w Taliban inside their own country." D'oh!
8:28:14 PM: Todd then asks if we can secure Pak's nukes. How'd he get his job? Seriously.
8:30:58 PM: BO: Pakistan obsessed w India as "mortal threat is misguided." It comes frm inside.
8:36:53 PM: ChipReed on Specter + dead GOP walkin'. BO luvs Arlen. BO best w/o tprompter.
8:42:58 PM: EHenry on Freedom of Choice Act: BO thnks abortion is about more than women's freedoms. Circular babbling.
8:45:38 PM: Zelny wants 100 day narrative. Insert laughter here. Eye roll optional.
8:49:28 PM: BO on enchanted part of Zelny's ask, uses military, then backs out. Good thing, bad fit.
8:53:41 PM: I want a cocktail; a luxury when you Twitter presser near where libations are @ reach.
8:58:45 PM: MSherer asks real ? Should prez be able to "derail entire lawsuits" on st secrets. BO flounders.
9:03:57 PM: What a press corp. Not one ? on MidEast, Netanyahu, or Iran. Sherer only solid challenge.