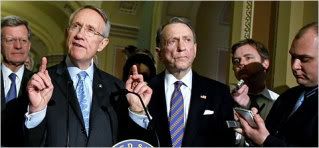 Well, there is blood in their veins, and according to The Hill, it's boiling.
After a stupendously stupid promise to Sen. Specter, which has him moving ahead of die hard Democrats on committee seating, some are not being quiet about Reid's sell out.
One senior Democratic lawmaker told The Hill that the Democratic Conference will vote against giving the longtime Pennsylvania Republican seniority over lawmakers like Harkin, Mikulski and Sen. Dianne Feinstein (D-Calif.) when they hold their organizational meeting after the 2010 election.

Under his deal with Reid, Specter would jump ahead of all but a few Democrats when it comes time to dole out committee chairmanships and assignments.

"That's his deal and not the caucus's," the senior lawmaker said of Reid's agreement with Specter.
The rumor mill is rumbling with all sorts of scenarios, with this the obvious: Specter could bump Harkin after the election from his chairmanship of the powerful Appropriations Labor, Health and Human Services subcommittee or return to be chairman of Judiciary if the current chairman, Leahy, takes over the gavel at Appropriations.
Harry Reid doesn't care about whether Specter is a Democrat in name only, that he voted against the budget just yesterday, any more than he cares that Joe Lieberman backed John McCain in the election. Reid's job is different. What Reid cares about is "Democratic" bodies in the caucus that can be sold whatever it takes to get them in. To him, a "Democratic" is a Democrat. Principle and political purpose has nothing to do with it.
Oh, and just so we're clear. I could care less about political purity. But if a Democrat isn't going to support signature issues of our party that's a completely different story, especially someone coming from blue Pennsylvania. You expect a little winger juice running through the veins of a Dem coming from the deep south, but even Casey, who is against choice, understands what EFCA means to Pennsylvania workers.
Besides, one of the real reasons Specter jumped ship, besides that he couldn't beat the tea bag candidate Pat Toomey in the primary, is to stick it to the Club for Growth and the GOP for not standing by their man. This is a revenge move on Specter's part. That Reid's allowing him his vengeance and his cake too shouldn't sit well with the caucus. It's good to see some reaction, though I'd like to see full scale rebellion against Reid.